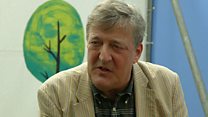 Video
Stephen Fry on Facebook
A growing number of people are getting their news from Facebook.
The British actor and writer Stephen Fry says the company needs to ensure its news sources are not "blatant lies or propaganda."
Fry temporarily closed his social media accounts on several occasions, complaining that Twitter was full of "ghastliness."
Facebook has previously said it has taken steps to deal with the issue of fake news, including making it harder for fake news spammers to make money from ads and testing new features to make it easier to report questionable posts.
The firm recently announced plans to hire 3,000 more people to monitor posts.
See more at Click's website and @BBCClick.
Go to next video: Google offers virtual museum tours