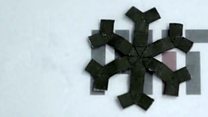 Video
The 3D magnets that go inside your body plus other news
BBC Click's Lara Lewington looks at some of the best technology news stories of the week including:
Apple says it is to change the default settings of its iPhone to stop hackers and others unlocking devices without proper legal authorisation;
Dixons Carphone has admitted a huge data breach involving 5.9 million payment cards and 1.2 million personal data records;
Researchers at the Massachusetts Institute of Technology (MIT) have developed magnetic 3D-printed structures that crawl, roll and jump that could be used for medical procedures inside the human body.
See more at Click's website and @BBCClick.
Go to next video: Who's testing the World Cup football?