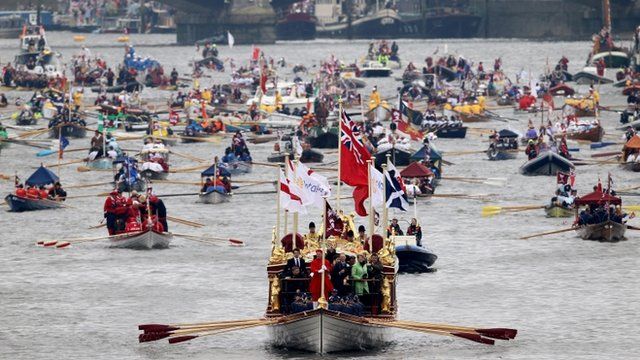 Video
Apology to 'stranded' river pageant stewards
A company supplying stewards for the river pageant on Sunday has been criticised for the conditions offered to unpaid volunteers who did the job as part of a government work experience scheme. Some of the staff complained that they had been expected to camp under London Bridge the night before the event.
The firm, Close Protection UK, said it has apologised to the staff, who had arrived in London by coach earlier than expected. The Charity Tomorrow's People arranged the placements for some of these young people.
Abi Levitt, Tomorrow's People's director of development, told BBC Radio 4's The World At One that "there is no doubt that there was a logistical problem which left not just young people but a whole number of people around the muster point around London Bridge for two hours before any representative of CPUK were there.
"That's something that we felt was was poor planning, we were really upset about it. We take the care of people who work with us very seriously and it's just not acceptable."
Ms Levitt said there were two types of workers there, some from the modern apprentice scheme and others who were unpaid.
"There were also people who are jobseekers allowance. If you're on jobseekers allowance you cannot be paid for work experience. We are not talking about somebody working for a month in a retail unit.
"What we're talking about is, we've been working with people on a six months training programme with CPUK helping them to get NVQs etc. And when we were offered the opportunity to put some of this trainiing in practice at the Jubilee weekend we offered that as a voluntary opportunity to some of those people who'd been on the programme."