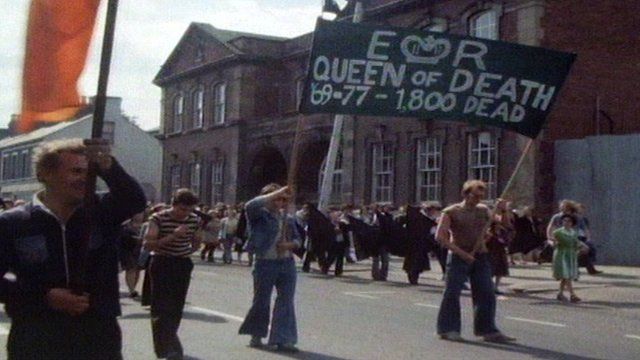 Video
The Queen in Northern Ireland: 1977 riots
The Queen's Silver Jubilee vist to Northern Ireland in 1977 took place under very different circumstances to those that greet her on her Diamond Jubilee visit.
As Peter Taylor recorded in an ITV documentary, a "black flag" march took place down the republican Falls Road behind a banner that read "ER Queen of Death. 1969-77. 1,800 Dead".
When marchers were not allowed to enter Belfast city centre, a vicious street battle between rioters and the army ensued.
Watch Peter Taylor's full report on the Queen's jubilee visits of 1977 and this year on Newsnight at 10.30pm on BBC Two on Tuesday 26 June 2011 then afterwards on the BBC iPlayer and Newsnight website.