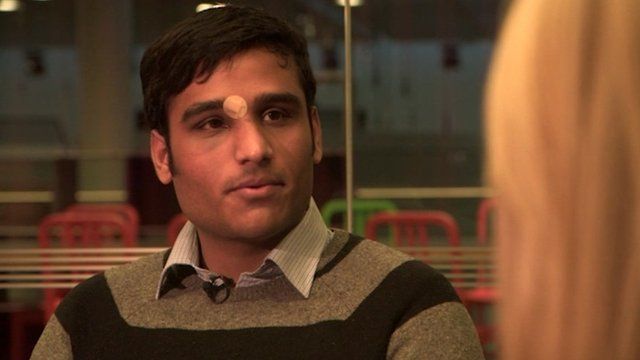 Video
Asylum claim hope for student shot in head in Pakistan
An Ahmadi Muslim who was shot in the head in Pakistan has arrived in the UK for treatment and will now claim asylum here in order to avoid returning to his home country.
Ummad Farooq, who was in the UK studying in Sunderland on a student visa, had gone home to Karachi for his brother Saad's wedding on the 19 October when the same brother was killed in the attack.
He came back to the UK with the bullet still lodged in his head and is now getting treatment at Queen Elizabeth hospital in Birmingham - the hospital treating Taliban victim Malala Yousafzai.
Ummad Farooq says his family were targeted because his father is the president of the Ahmadiyya community in his locality.
Ahmadis are a Muslim sect whose views differ from mainstream Islam. They suffer persecution because of this and in 1974 the Pakistani government declared the sect non-Muslim.
He spoke to BBC Asian Network reporter Catrin Nye.
You can hear more on this story on Asian Network Reports at 13:00 BST and 17:00 BST on Wednesday or listen back on the BBC iPlayer.
Go to next video: Malala's father: She will 'rise again'