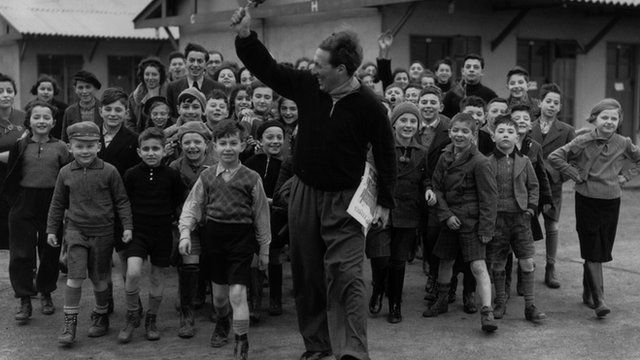 Video
Kindertransport 'an exceptional act of rescue'
The Kindertransport, also known as the Refugee Children Movement or RCM, rescued thousands of people from Nazi Germany and elsewhere in the lead up to WWII.
Some of the 10,000 children, mostly Jews, whose lives may well have been saved when they were given foster homes held a reunion on Sunday to mark the 75th anniversary of the mission.
Because of the age of those concerned, it is likely to be the last big reunion of its kind.
The Today Programme's Justin Webb asked two of the people rescued through Kindertransport about their experience.
Liane Segal was 8 when she came from to the UK from Vienna: "The journey was very long and very lonely. I was a shy and quiet child, and no-one spoke to my throughout the journey. It was a little frightening."
Herman Hirschberger, was 11 when he came to the UK from Karlsruhe, in West Germany. He describes leaving his home town: "We said goodbye to our parents, who said they would see us for a happy reunion in a few weeks time. But that's the last time we ever saw them. They were murdered when the Holocaust began seriously, in 1942. They were murdered and gassed at Auschwitz."
"I think the survival was due to an exceptional act of rescue which was Kindertransport which is to the credit of the British government at the time as well as the people who organised it," he added.
First broadcast on BBC Radio 4's Today programme on Monday 24 June 2013.