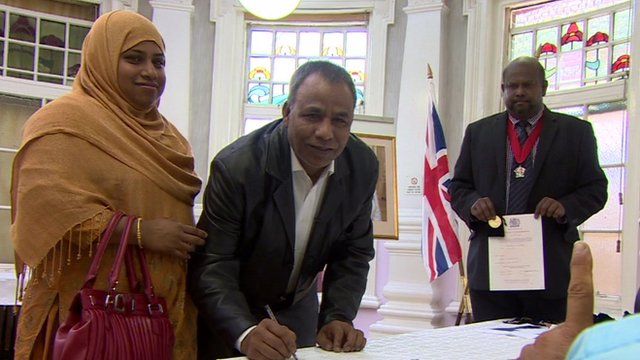 Video
Becoming British in the UK's least white borough
Newham in east London is the UK's least white borough and the local mayor, Sir Robin Wales, has introduced a series of measures aimed at encouraging integration.
He has removed translation services and foreign newspapers in the borough's libraries as part of the plan.
Here we take a look inside the citizenship ceremonies that happen twice a week in Newham, where people from all over the world become British.
Video features registrar Lisa Ellis and Cllr Paul Sathianesan
Listen to Catrin Nye's full documentary about the integration strategy - Naturalising Newham - online now and at 17:00 BST on BBC Asian Network. See the film at 22:30 BST on Newsnight on BBC Two, on Thursday 19 September 2013.
Video journalist: Richard Kenny
Go to next video: Betting shops 'taking over Newham'