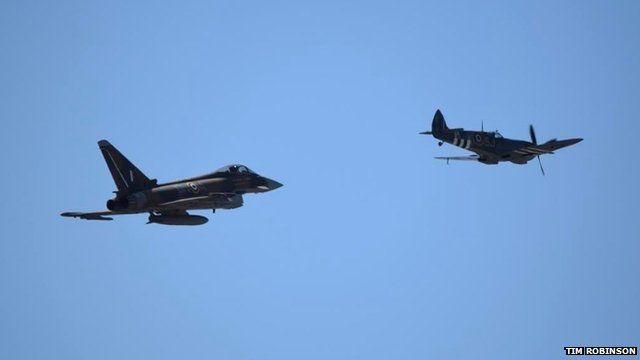 Video
Flypast for Battle of Britain anniversary
Period and current Royal Air Force fighter planes haven taken part in a flypast to mark the 75th anniversary of the start of the Battle of Britain in World War Two.
10 July 1940 is widely accepted as the date on which the famous battle between the RAF and Germany's Luftwaffe began, as the Nazis sought to dominate the skies over England.
Spitfire and Hurricane fighters from the time were accompanied by four modern-day Typhoon jets as they flew over Buckingham Palace, where the Queen and members of the Royal Family were watching.
RAF historian Sebastian Cox told the BBC's Nick Higham what was happening.
Go to next video: Close up with the Battle of Britain planes