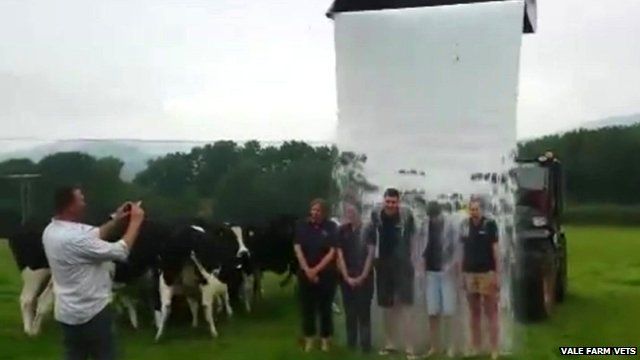 Video
Dairy farmers' version of ice bucket challenge
Dairy farmers, angry at the low cost of milk, have been protesting by doing their own version of the ice bucket challenge.
Farmers have been pouring milk on their heads, to highlight how little it is currently worth.
The challenge began in Devon and is spreading through the South-West.
It comes as farming leaders and ministers from across the UK meet to discuss what the National Farmers' Union calls a "crisis" over low milk prices.
Aldi, Lidl and Asda have already said they will pay a minimum price of 28p per litre. Morrisons will pay 26p per litre from later this month.
Waitrose, Marks & Spencer, Tesco, the Co-op and Sainsbury's already pay more than the cost of production for milk.
Go to next video: Morrisons to create new milk brand