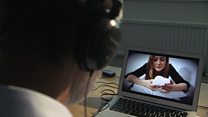 Video
ASMR: How sound is being used as a stress reliever
You may not have heard about ASMR but type it into a search engine and you get more than 11 million responses, many of them videos.
They are designed for relaxation and for many viewers can cause a distinctive and pleasurable tingling sensation in the head.
Scientists are now investigating the phenomenon of Autonomous Sensory Meridian Response in more depth, as Nick Higham reports.
Watch Victoria Derbyshire weekdays from 09:15-11:00 BST on BBC Two and the BBC News Channel. Follow the programme on Facebook and Twitter, and find all our content online.
Go to next video: Why is Nicolas Cage all over Facebook?