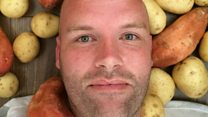 Video
Man eating only potatoes for a year says diet 'going great'
A man who is living of nothing but potatoes for an entire year has told 5 live "everything is going great" for him.
Andrew Taylor, who describes himself as a food addict, went onto the diet to try and stop himself comfort eating. He now eats nothing but potatoes, with minimal seasoning and a little sauce. The main rule, he says, is not cooking anything in oil.
Since starting the diet 37 days ago, Andrew had lost two stone in weight and says he is "sleeping better than ever" and his "concentration is off the charts".
He is taking precautions with his extreme diet by regularly getting his blood monitored and consulting a doctor.
This clip is originally from 5 live Drive on Friday 5 February 2016.
Go to next video: 'I eat 40 bags of crisps a week'