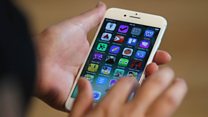 Video
Is your phone taking over your life?
New research has found that over a third of people regularly check their mobiles in the middle of the night, while 15 million are having their sleep patterns disrupted.
The survey by Deloitte also found that one in three adults have argued with their partner about how much they use their phone.
Dr Nerina Ramlakhan, a physiologist who specializes in sleep and technology addiction, said excessive smartphone use can even make us become like "cavemen" due to its impact on the brain.
We asked listeners whether they had found themselves addicted to their phones.
This clip is originally from 5 Live Breakfast on Monday 26 September 2016.