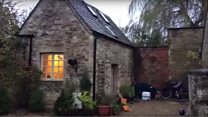 Video
This tiny house is home to a family of five
Barely bigger than the average garage, this tiny house is home to a family of five.
Architect Tim Francis lives in the 15 square metre outhouse, once used for storing fruit, with his wife, two young children and newborn baby.
It was built as part of the 'tiny house movement' sweeping the US that encourages people to convert to small-scale living.
Tim said: "it's enabled us to live more simply with no mortgage, have more time with our children, and reduce our carbon footprint".
He told 5 live the house is a "transition point" until his children get older and need more space.
"It's not forever, but we did realise how little we need to feel at home," he added.
This clip is originally from 5 live Breakfast on Wednesday 16 November 2016.