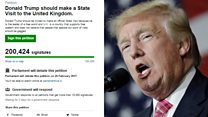 Video
'My 13-year-old daughter wrote pro-Trump petition'
The man who created a pro-Donald Trump petition which has now gathered over 200,000 supporters has told BBC 5 live that it was actually suggested and written by his 13-year-old daughter, who supports the US president.
In his first media interview, 68-year-old Alan Brown, a businessman from Dover who supports Mr Trump, told Emma Barnett on 5 live Daily that his daughter was "over the moon" with the response it has received.
The petition is in favour of the US president making a state visit to the UK because the UK "supports free speech".
It will be debated by MPs on 20 February, along with a separate petition opposing a state visit by Mr Trump, which has now gathered more than 1.7m signatures.