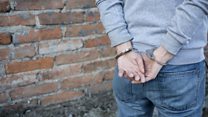 Video
Boy locked in UK prison cell for over 23 hours a day
The High Court has agreed to a judicial review of the case of a teenage boy who is being locked in a cell in Feltham Prison in London for more than 23 hours a day. The Howard League for Penal Reform has brought the case.
Dr Laura Janes, their legal director and the solicitor representing the boy, says the practice is not permitted and amounts to "inhumane and degrading treatment".
Dr Janes told BBC Radio 4's Today programme that according to Her Majesty's Inspectorate of Prisons, over a quarter of boys at this prison are spending 22 hours a day or more in their rooms, in effect in solitary confinement.
Go to next video: 'Our family treated like a bargaining chip'