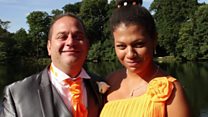 Video
Fostered girl 'lost smile' after being removed from family
A girl who was removed from her foster parents has "lost her smile" and is still suffering from the decision six years on, they told the BBC Victoria Derbyshire programme.
Aimee Gardiner, then 15, was taken from Chris and Carrie Stevens in 2011, who are both her aunt and uncle and her foster parents, after she contacted social services following a family argument.
Without warning, she was placed with a different family on the recommendation of a social worker; the decision was later criticised by officials.
Mr and Mrs Stevens said Aimee still has nightmares and suffers low confidence.
Essex County Council has apologised and admitted "mistakes were made".
Watch the Victoria Derbyshire programme on weekdays between 09:00 and 11:00 on BBC Two and the BBC News Channel.