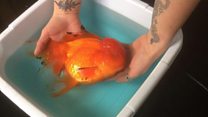 Video
Fishery owner says his 'giant' goldfish is nearly a foot long
The owner of what is believed to be the largest goldfish in the UK has told BBC Radio 5 live that he is hoping to sell "Rocky" the Redcap Oranda to a collector.
Andy Green, who runs Star Fisheries in London, sought to clarify previous reports surrounding the size of his fish.
"It was reported in the press yesterday as nearly six inches long, actually it's nearly a foot long, and also they said it's sort of four inches round, but it's eight inches round, and it's six inches deep as well".
When asked about whether the goldfish was simply overweight, Andy replied:
"No, this is a particularly good example - and fairly unique example - of how an Oranda has grown to this size, to be honest. Generally, in this country, they don't get anywhere near as big as that."
This clip was taken from 5live Breakfast on Sunday 19th March 2017.