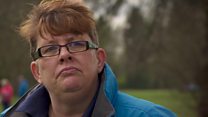 Video
Care worker suicides in England are on the rise, says ONS
The number of care worker suicides in England is on the rise according to ONS research seen by BBC Breakfast.
It shows the rate has been steadily increasing for the last 15 years and that more female care workers take their own life than any other occupation.
The Department for Health in England says it has increased funding to support groups who are at higher risk of suicide.
Care worker Jayne shares her mental health struggle.
If you are feeling emotionally distressed and would like details of organisations which offer advice and support, go online to BBC's Action Line or you can call for free, at any time to hear recorded information 0800 066 066.