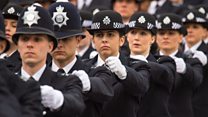 Video
Lord Blair: Continuously cutting police budget 'absurdity'
Lord Blair, former Metropolitan Police Commissioner, has criticised the cuts being made to the police force, especially that of the Met.
He told the Today programme "the cuts being considered need reconsideration". He added that there should be "no cuts" as the police are under enormous pressure at the moment.
In response to this interview the Home Office issued a statement saying that: "Police spending was protected in the 2015 Spending Review, and the Met has had a broadly flat cash budget since then... and this government will continue to ensure that the Metropolitan Police have the resources they need to cut crime and keep our communities safe."
Go to next video: Labour: Police cuts make communities less safe