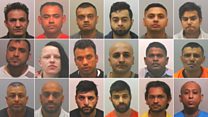 Video
Labour MP: 'This isn't racist, this is child protection'
Eighteen people have been convicted of abusing girls in Newcastle by plying them with alcohol and drugs before forcing them to have sex. Most of those convicted in Northumbria Police's Operation Sanctuary were from Asian backgrounds.
Labour MP for Rotherham Sarah Champion said "we need to be upfront that the majority of the perpetrators have been British-Pakistani", calling for the government to research why this is happening.
She told the Today programme that addressing the racial dimension "isn't racist", but "child protection".
Go to next video: How police brought down a network of sex offenders