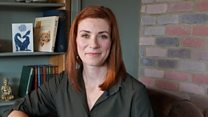 Video
Ex-mental health nurse: 'I couldn't get back up again'
Aimee Leigh Smith worked as a mental health nurse for 17 years. Earlier this year she left her job. She told BBC 5 live that the "stress and burnout" was taking its toll on her family life and her mental health.
"I came home and sat on my couch, I fell to the side and I felt like I couldn't get back up again" she said.
BBC 5 live have found that NHS mental health staff taking long-term sick leave because of their own mental health issues has risen by 24% in the past five years.
Aimee Leigh said: "The managers are burnt out, the staff are burnt out.
"Mental health workers are absolutely taking on what their patients are experiencing, and starting to exhibit the same kinds of behaviours.
"Things like low mood, depression, eating disorders, shouting at each other."