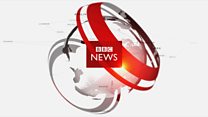 Video
Prince Charles's offshore investments
Prince Charles' private estate, the Duchy of Cornwall, secretly invested in an offshore company which lobbied to change climate agreements, documents from the Paradise Papers have revealed.
Sustainable Forestry Ltd lobbied politicians to amend global agreements to allow 'carbon credits' from rainforests to be traded.
The Prince made speeches in support of this – and his estate, the Duchy of Cornwall, tripled its investment in Sustainable Forestry in the space of a year. It is not clear why this was.
The Duchy says the prince has no direct involvement in investment decisions.
Prince Charles denies ever speaking on a topic simply because of a company the Duchy may have invested in.
Find out more about the Paradise Papers.
This video has been optimised for mobile viewing on the BBC News app. The BBC News app is available from the Apple App Store for iPhone and Google Play Store for Android.