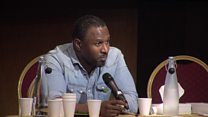 Video
Grenfell Tower inquiry: 'Now it's just darkness'
A man who lost his mother, brother and sister in the fire, gave an emotional tribute to his family.
Fathia Ahmed, 71, was found on the 23rd floor with her children Abufars Ibrahim, 39, and Isra Ibrahim, 33.
Abu Baker Ibrahim said he missed "everything" about his mother. The family came to England from Sudan, after his father was killed in the 1980s.
"We enjoyed our time in England... My mother worked hard in a foreign land to keep us together... (she) was given flat 206 in Grenfell Tower in 2007."
Describing his grief, he said: "I miss them.
"You can sit and pretend that it's OK, but the minute you close that door and you're by yourself, it's horrible.
"It's like having a clear vision of where we're going as a family and now it's just pure darkness."