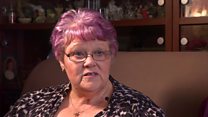 Video
Bomber's foster parents say they were failed
The foster parents who cared for the teenager who went on to explode a bomb on a Tube train in south-west London say they were failed by officials who did not tell them how he had been radicalised.
Ron and Penny Jones say they would never have taken in Ahmed Hassan had they known the full picture.
A Surrey County Council spokesman said: "We fully acknowledge that our work with other agencies in this case wasn't as good as it should have been and we're sorry for that.
"We knew before the incident at Parsons Green that we needed to make changes to improve our services for children at risk of radicalisation and we had already begun to do so."