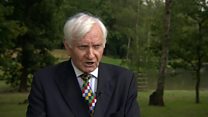 Video
He sought to destroy my reputation - Harvey Proctor
Former MP Harvey Proctor has responded to the conviction of a paedophile who made false allegations about him.
He was one of a number of public figures who were named in the untrue accusations of murder and child sexual abuse. Speaking after the verdict, Mr Proctor called Operation Midland "a truly disgraceful chapter in the history of British policing".
He also criticised Labour's deputy leader Tom Watson, who met Beech in 2014 and discussed the allegations. Mr Watson "gave oxygen" to Beech's allegations, Mr Proctor claimed.
Mr Watson defended his role and said he hoped the case does not prevent survivors of child sexual abuse going to the police.
He told the BBC: "I can understand why Harvey Proctor is very angry and upset but I'm afraid I haven't got anything to apologise to him for."
There was "absolutely no way" that he applied pressure "improperly" on police and politicians to investigate the case, he said.
Mr Proctor also criticised the BBC's journalism on Beech's allegations. In 2014, the BBC broadcast an interview with Beech - whose identity was kept hidden at the time - as well as with police investigating the case.
In a statement issued after the trial verdict, the BBC said it had "reported serious allegations, in the public interest, which were the basis of a police murder investigation, and which the police later described as 'credible and true'".
It added: "Carl Beech has since been exposed as a fantasist and serial liar, not least by an investigation from the BBC's Panorama.
"We express our utmost sympathy to those falsely accused by Beech and to the family of Martin Allen."
The now-defunct Exaro news agency also came under attack from Mr Proctor. The former MP said the court had heard that Beech had been shown images and locations by journalists Mark Watts and Mark Conrad to "facilitate his fantasies" during the investigation. He said the journalists, from Exaro should be investigated for "conspiracy to pervert the course of justice".
Mr Conrad said he had "every sympathy" with those falsely accused, but said Beech was never shown any images of alleged abusers before he had named them.
He said Beech had "meticulously researched" his false claims, allowing him to "misdirect and mislead" journalists and the police.
Mr Watts said there was no evidence of criminal conduct by Exaro and Mr Conrad had shown the images to Beech "before we knew that there was any prospect" of police investigating.
Carl Beech, 51, from Gloucester, was found guilty of 12 counts of perverting the course of justice and one of fraud.