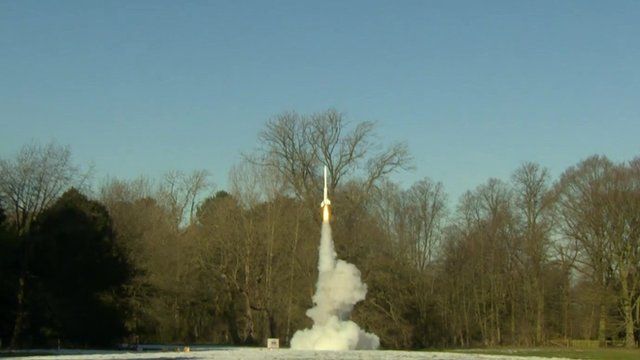 Video
Starchaser rocket misfires in front of schoolchildren in Cheshire
A test rocket launched in Cheshire in front of 200 schoolchildren fell back to earth after reaching just 30 ft (9m).
The children gathered in Macclesfield to watch Starchaser Industries' Tempest launch to 3,000 ft (914m) for a science experiment.
Tempest was testing electronics such as GPS and monitoring air quality in conjunction with the University of Chester, the University of Leicester and Manchester University.
Steve Bennett, CEO of Starchaser Industries, said: "It was just a problem with the rocket propellant. It didn't ignite properly... and the rocket fuel just shut down.
"The rocket's salvageable, we will be able to fix it and we'll be able to have another go at it."