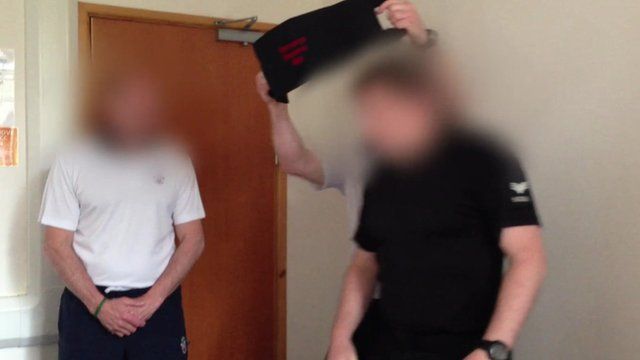 Video
Thomas Orchard: Spit hood police demo shown in trial
A police demonstration video released during a trial shows how a limb restraint was taught to be used as a spit guard on detainees.
Thomas Orchard, 32, who had paranoid schizophrenia, died in hospital in October 2012, after an Emergency Response Belt (ERB) was put around his face at a police station in Exeter.
The video was commissioned by the Independent Police Complaints Commission (IPCC) in May 2013, as part of their investigation into his death.
Custody sergeant Jan Kingshott, 44, and civilian detention officers Simon Tansley, 38, and Michael Marsden, 55, have been cleared of manslaughter.
The IPCC said it asked Devon & Cornwall Police to provide it with a video demonstrating how the force used the ERB in accordance with its policy and procedure guidelines which were in place prior to the death of Mr Orchard.
Part of the video showed the custody trainers demonstrating how to use the belt as a spit guard, around the face of a detainee.
The National Police Chiefs' Council said it only endorsed the use of the ERB as a limb restraint, and its use as spit guard "has never been considered, taught or condoned" by the NPCC, or its predecessor the Association of Chief Police Officers.
Devon & Cornwall Police's Force Policy & Procedures for 2015 now states: "Under no circumstances will an ERB be applied around the head of a detainee."
Go to next video: Police custody death CCTV is released