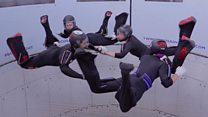 Video
The team of women who skydive behind closed doors
A British women's formation skydiving team has told how indoor training tunnels has helped bolster the profile of their sport.
The quartet of women make up the NFTO team, which stands for Not For The Ordinary, and must come top in the forthcoming British Skydiving Championships to qualify for the world championships next year.
They train at the Twinwoods Adventure wind turbine, near Bedford, the site of an old science research facility.
Anna Hicks, from Shropshire, Vana Parker, from Berkshire, Cath Anderson, from Nottinghamshire, and Debbie Lamsley, from Surrey, primarily self fund their team.
Between them, they've completed more than 14,000 jumps.
"I think [the sport] is getting more well-known especially with the big tunnels around," says Ms Anderson.
"It's really nice because people can watch it happening in front of them, when it happens in the sky it's harder to see."
If you want to give indoor skydiving a try, there are numerous wind-tunnel facilities around the UK.
Or if you want to find out about other activities guaranteed to raise your adrenaline levels, check out our Get Inspired guide to Adventure Sports.