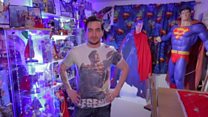 Video
Meet the man with the world's largest Superman memorabilia collection
A man with the world's largest collection of Superman memorabilia said his dream would be to open a museum if his collection continues to grow.
Marco Zorzin, from Wheathampstead, is officially a Guinness World Records title-holder for his collection of all things Superman.
Mr Zorzin, whose middle name is actually "Superman", entered the record books with a collection of 1,518 items, which has already grown to more than 2,000 items, ranging from curtains to key rings to full size statues.
He started collecting about seven years ago but did not just limit to Superman, he would collect any DC comic-related items.
"If it grows that much maybe I'll open up a museum," he said. "That would be a dream."
The Superman focus came when Mr Zorzin had to sell his DC collection upon news that his wife was expecting their first baby - he sold everything but the Superman items.
"The hero that you like when you're a kid always stays with you," Mr Zorzin said, having grown up watching Superman as a child in Brazil.
The 30-year-old is such a fan that his two daughters are named after Superman characters Lana and Lara.
"When I was around 14, I used to say I'd be in the book for one reason. I just didn't know what reason yet," he said.