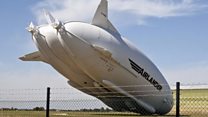 Video
Airlander 10 gets 'giant inflatable feet' after crash
The world's longest aircraft - the £25m Airlander 10 - has been given a pair of "giant inflatable landing feet" as part of improvements following a crash.
The 302ft (92m) long aircraft, which is part plane and part airship, nosedived after a test flight at Cardington Airfield, Bedfordshire, on 24 August.
No-one was injured in the accident, but the cockpit was effectively destroyed.
The auxiliary landing system has "airbags" which are stowed during flight, Hybrid Air Vehicles (HAV) said.
It is one of a number of changes which have been made since the crash when Airlander climbed to an excessive height because its mooring line became caught on power cables, an Air Accidents Investigation Branch report found.