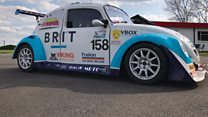 Video
Le Mans: Ex-military hope to become first all-disabled team
A team of former military personnel, who where all injured during their service, are hoping to become the first all-disabled team to compete in Le Mans.
The four drivers showcased new hand control technology at the Bedford Autodrome racetrack.
Team BRIT stands for British Racing Injured Troops.
The four drivers that make up the team are Warren McKinlay, 35, from Braintree; Jimmy Hill, 34, from Bournemouth; Tony Williams, 32, from St Helens, and Andy Searle, 24, from Torquay.
Founder Dave Player said: "A lot of people told us that the modification we needed was too difficult.
"I hope that colleagues in the wider automotive industry will be interested in our development, which will revolutionise the way in which disabled drivers can control their cars."
The hand control technology uses an electronic throttle, clutch, gear changing and braking system.
Find out how you can get into motorsport with the Get Inspired guide.
Go to next video: Former soldiers take to the stage