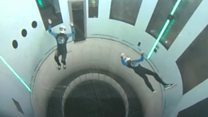 Video
Bodyflight World Challenge indoor skydiving in Bedfordshire
Hundreds of competitors from more than 25 countries are competing in what is believed to be the world's largest indoor skydiving event.
The Bodyflight World Challenge, held in Milton Ernest, Bedfordshire, takes place in a vertical wind tunnel.
The chamber is 5m (16.4ft) wide and 8m (26.25ft) high and wind speeds can can reach 180mph (290 k/mh).
Each team performs a series of synchronised moves during their routine.
Gold medal winning indoor skydiver Josh O'Donoghue, from Bedford, said the sport is "my life".
"Basically it's about people flying in a tube and making certain patterns with each other."
He is competing with flying partner Luke Warren in the Two Way Dynamic Event.
For more stories like this see Faces of England on Instagram.