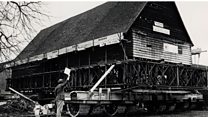 Video
At Easter 1971, a 400-year-old barn was moved on wheels across Knebworth Park
On the 1971 Easter weekend, visitors to Knebworth Park in Hertfordshire were treated to the unusual sight of a 400-year-old tithe barn moving along the ground on wheels.
The 70ft-long timber-framed Manor Barn, weighing 100 tonnes, was transported on 16 wheels pulled by a steam traction engine for about half a mile.
It took local firm Pynford five weeks to get the 17th Century barn from Manor Farm to where it is now, by the entrance to the house and gardens.
At the time, it was the largest building in the country to have been moved intact.
David and Chryssie Lytton Cobbold, now Lord and Lady Cobbold, were making the park into a visitor attraction.
In her book, Board Meetings in the Bath, Lady Cobbold said: "We needed a restaurant and lavatory block near the house, but did not want to spoil the park with a new building.
"So we planned to move two 400-year-old tithe barns from the estate, and build a kitchen and loo block between them."
Manor Barn was moved on wheels as it could be moved through Knebworth Park - but the Lodge Barn at Lodge Farm, dating from the late 17th/early 18th Century, was dismantled and rebuilt, as it would have had to have been moved by road.