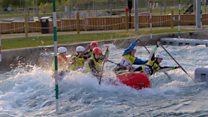 Video
Teenage rafting team eye world championships in Japan
A team of teenage girls are to represent Great Britain at the World Rafting Championships in Japan, if they can raise enough money.
The six girls, aged between 14 and 17, from London, Essex and Hertfordshire, qualified for the World Championships at British selections in March.
"We were the youngest ever team to get into the GB team," said Lee Valley Devils' Emily Smith, 15, from Romford.
They will be competing in the under 19s R6 category, which is for a raft of six, as long as the team can raise the £10,000 needed to get to Japan.
"It's such an amazing opportunity for us and we're all so excited about it," said Katie Pidgeon, 15, from Romford.
The team only started training together in late 2015 and is entirely self-funded. They rely upon donations and sponsorship.
All training takes place at Hertfordshire's Lee Valley White Water Centre, one of the London 2012 Olympics venues.
If you want to find out how to get into caneoing and kayaking, read the Get Inspired guide.