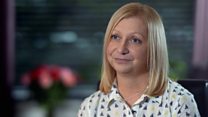 Video
Safety concerns raised over breast implants
Janet Trelawny had breast cancer over 20 years ago. Her breasts were removed and replaced with textured implants. Now, she has been diagnosed with breast implant associated lymphoma (BIA-ALCL).
Women in France are now being advised not to use "textured" silicone implants while authorities investigate links with this rare form of cancer.
British women are still having the implants put in and there has been no warning from the UK regulator to stop.
It says it will take action when it sees there is a problem.
BBC Panorama has been investigating implants with the International Consortium of Investigative Journalists and organisations around the world, including the Guardian newspaper and the British Medical Journal.