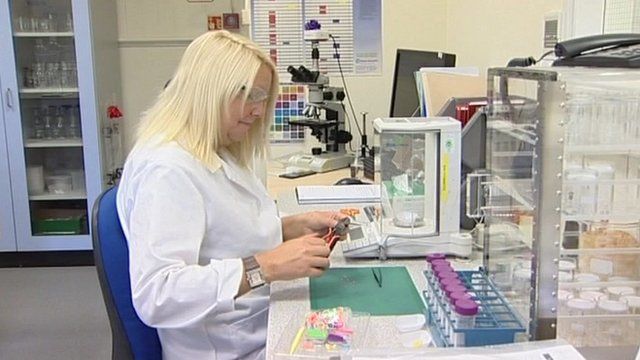 Video
The Entertainer withdraws 'dangerous' charms
A toy shop has withdrawn a range of plastic bracelet charms after they were found to contain high levels of cancer-causing chemicals.
An investigation by BBC Midlands Today found some charms bought at The Entertainer store in Birmingham contained high levels of phthalates, a chemical that makes plastic flexible.
Tests carried out at the city's Assay Office showed one charm contained 40% of phthalates, with EU law stating 0.1% as the legal limit.
The different coloured charms are designed to be used in bracelets woven from "loom bands".
The recent craze among children for the plastic bracelets started in the US.
In a statement, the toy shop chain said: "It was brought to our attention that loom charms purchased from one of our stores may contain [banned] phthalates.
"At The Entertainer, children's safety is our number one priority so as a precautionary measure we have removed all loom charms from sale with immediate effect whilst we conduct a full investigation.
"Any concerned customers will be offered a full refund or exchange in any of our stores."