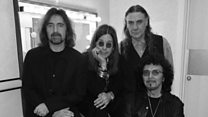 Video
The Birmingham street where Black Sabbath's sound began
The birthplace of heavy metal music can be traced to a single street in Birmingham.
In 1965, Tony Iommi was working his last day at a sheet metal factory on Summer Lane in Aston, when he had an accident with one of the machines and lost the tips of two of his fingers.
This would change the way he would play guitar music forever and was crucial to the sound of heavy metal pioneers Black Sabbath.
He said: "It helped to make me play a different style because I couldn't play the conventional way. I worked constantly trying to get the sound more powerful, make it sound fatter."
BBC Inside Out West Midlands features this story at 19:30 GMT on BBC One on Monday 6 February. It will be available afterwards on iPlayer.
Go to next video: Black Sabbath star given arts honour