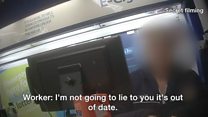 Video
Tesco multi-buy offers widely out of date, BBC investigation finds
An undercover BBC investigation has revealed Tesco customers are being overcharged on multi-buy promotions.
A reporter for BBC Inside Out West Midlands, who secretly filmed inside 50 Tesco stores around the country, found discounted prices were not applied at 33 of them.
Money-off promotions were marked on the shelf, but the full cost of individual items was charged at the tills because the offers were out of date.
Tesco said it would be double checking price labels at all its stores as a result of the investigation. The company runs more than 3,500 stores across the UK.
A spokesperson said: "We are disappointed that errors occurred and will be working with the stores involved to reinforce our responsibilities to our customers."
The full investigation can be seen on BBC Inside Out in most English regions at 19:30 GMT on BBC1 on Monday 13 February and for 30 days after on the BBC iPlayer