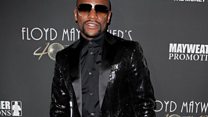 Video
Floyd Mayweather's van torched in Birmingham
A van used by retired world champion boxer Floyd Mayweather has been set on fire, police said.
The window was smashed before accelerant was poured inside and it was set alight at 03:30 GMT on Sunday at the Park Regis Hotel in Broad Street, Birmingham.
Mayweather was appearing in the city, meeting fans as part of a tour.
An eyewitness who filmed the damaged vehicle but did not wish to be named said: "He [Mayweather] was actually outside when the van was set on fire, then he ran back in.
More on this story and others around Birmingham and the Black Country.
"There was panic inside the whole hotel. Nobody was allowed out of the hotel for a couple of hours. They had the whole hotel on lockdown."
There is no sound on the video.