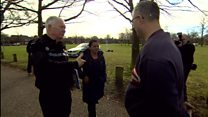 Video
Mother's 'buckle up' plea over Great Barr boy thrown from car and killed
A woman whose son died in a car crash has joined police on the school run to warn parents of the dangers of not wearing a seatbelt.
In May 2015, Sukhi Atwal's 12-year-old son Amar was a back seat car passenger when, not buckled up, he was thrown from the vehicle following a collision with a taxi.
Mrs Atwal, from Great Barr near Birmingham, is talking to drivers as part of a West Midlands Police campaign, reminding them it takes only a second for families' lives to be turned upside down.
She said: "Wearing a seatbelt could have saved [Amar's] life. At the very least it would have given him a better chance of survival. We can never get Amar back - but I just hope by encouraging both young and old to try and be as safe as possible they won't have to go through the heartbreak we have."