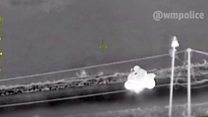 Video
Police pursuit ends in thief's canal plunge
Footage of the moment a burglar's getaway bike ends up in a canal has been released by the police force that pursued him.
Matthew Sadler, 41, was trying to evade both a patrol car and police helicopter as he rode through Erdington, Birmingham, after breaking into pubs on 2 December 2016 - three venues among the scores he and an accomplice targeted in a six-week spree.
West Midlands Police said the pair - each jailed for more than six years - pocketed about £33,000 in pound coins from jobs in Birmingham, Warwickshire, Staffordshire, Leicestershire, Northamptonshire, Worcestershire and Gloucestershire.
A force spokesperson said of the bike's canal plunge: "It could have ended much worse for [the offender] as the weight of almost 300 pound coins in his jacket could have caused real difficulties when he ended up in the canal."