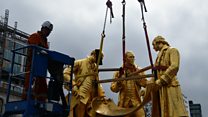 Video
Birmingham golden statue removed for tram line extension
One of Birmingham's best-known landmarks has been removed to make way for a tram line extension.
The Boulton, Watt and Murdoch statue, which has been nicknamed The Golden Boys and The Carpet Salesmen, depicts three of Birmingham's pioneering figures from the Industrial Revolution.
It has been moved to make way for a Midland Metro extension along the city's Broad Street and will reappear in a revamped Centenary Square late next year.
Until then it will be placed in storage by Birmingham Museums Trust.
James Watt's improvements to the steam engine and William Murdoch's invention of gas lighting made them famous throughout the world. Matthew Boulton was an entrepreneur and industrialist who created a company that made everything from tableware and copper coinage to steam engines.
Go to next video: Knife Angel made out of 100,000 weapons