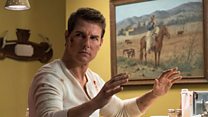 Video
Jack Reacher creator rescues New York taxi driver
Best-selling thriller writer Lee Child has described the moment he stepped in to save a New York taxi driver from a drunk passenger.
The author, real name Jim Grant, said the offender ended up "horizontal on the sidewalk".
His revelation came during a visit to Birmingham, where he grew up.
Lee Child has sold more than 100 million books about fearless former military cop Jack Reacher. The character has also spawned two Hollywood movies starring Tom Cruise.
You can see this story in full on BBC Inside Out West Midlands at 19:30 BST on BBC One on Monday 11 September, or via iPlayer for 30 days afterwards.
Go to next video: 'Being fired made me a novelist'