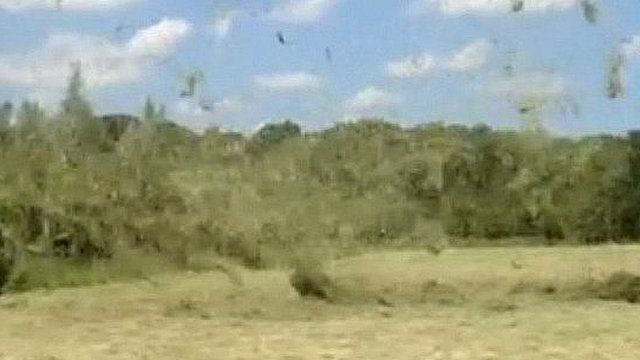 Video
'Dust devil' tornado caught on camera in Bristol field
A hay tornado, known as a dust devil, has been caught on camera whipping through farmland near Bristol.
The footage, filmed on a mobile phone, shows the moment it touched down in a field near Keynsham - sucked up straw and sent it flying into the air
Gary Purnell and Ursula Thompson, from Bristol, were driving near the old Cadbury Factory when they saw "this swirling thing going across a field".
"There was hay everywhere, I thought it was a tornado," said Ms Thompson.
Helen Chivers, from the Met Office, said the weather phenomenon is formed when the ground is hot and the rising warm air lifts up light debris.
"We've had reports of hay raining down on people in Cheltenham over the weekend - which is probably something to do with dust devils," she said.