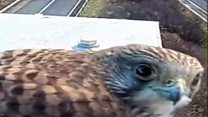 Video
Kestrel befriends reflection from M5 traffic camera
A young kestrel has adopted a CCTV mast on the M5 motorway as a hunting perch.
She has become a frequent visitor to the camera at junction 11a, near Gloucester, using the platform as a vantage point for hunting as well as to check out her own reflection.
Traffic Officer Leigh Goodchild said the inquisitive bird had squawked and attacked the lens a few times, but when that happens they discourage her from hurting herself by tilting the camera skywards.
"Her visits certainly brighten up our day and make a change from the traffic," Ms Goodchild said.
The RSPB estimates there are about 46,000 breeding pairs of kestrels in the UK and the bird is on their amber list of protected species.