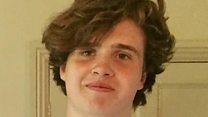 Video
Bristol dad: Parents should be told if students struggling
The father of a 19-year-old student who took his own life wants data protection rules changed to prevent further deaths at universities.
James Murray, whose son Ben attended the University of Bristol, told BBC Radio 5 live he wants all vice-chancellors to sign up to a 10-point "suicide prevention" pledge to inform parents when students are in difficulties.
In a statement, Bristol University said it is taking steps to ensure it is a safe and supportive place, including implementing an "opt-in" for students to "enable contact with nominated next of kin if we had a major concern about their wellbeing".
Go to next video: My Mind and Me