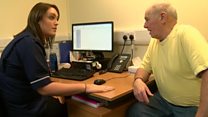 Video
GP patients in Cambridgeshire face wait times of up to two weeks
Patients in Cambridgeshire and Peterborough face an average wait of two weeks to see their own GP this winter, the BBC has learnt.
Twenty surgeries across the county were contacted, with one reporting a wait of more than a month.
Four years ago NHS figures showed the average wait for a GP in England was around a week. Now, only 10% of surgeries said that a patient could be seen by their own doctor within that time.
Dr Emma Tiffin, spokesperson for the Cambridgeshire and Peterborough Clinical Commissioning Group, says the "increase in wait times is a worry".
"It's difficult to determine what's a good enough standard. 40% of the patients we see can be managed by self care at home," she said.
"Some problems can safely wait. If patients do need urgent care, they will be seen that same day.
"There are a limited number of GPs and we are struggling with bodies on the ground."