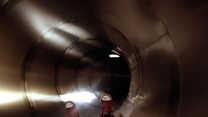 Video
Ed Sheeran: Giant slide at Framlingham Castle On The Hill
Visitors to the castle which inspired Ed Sheeran's Castle On The Hill are sliding through time as part of a £1.2m conservation and improvement project.
Framlingham Castle, which dates back to the 12th Century and is a former home to Henry VIII's eldest daughter Mary I, is in the final phase of works to improve the fortress's walls and create a new visitor's centre.
English Heritage has introduced a temporary slide on scaffolding to carry visitors from the top of the castle wall to the courtyard below. It will operate until May.
"We are delighted to have opened the slide... meanwhile the visitor improvement project is on-track to be completed in the summer," property manager Kirstie Horne said.
The castle features in singer-songwriter Ed Sheeran's Castle On The Hill. The artist grew up in the town.