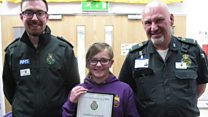 Video
Cambridge girl praised for 999 ambulance call that saved uncle's life
A 10-year-old girl has been called a "little heroine" after her quick-thinking actions to dial 999 saved her uncle's life.
When Courtney's uncle collapsed in March, she was the only person in the house who could help.
She rang 999 and after speaking to the operator proceeded to put her uncle into the recovery position.
Emergency call handler Robert Pitt and paramedic Simon Wicker were so impressed by the Cambridgeshire schoolgirl they both nominated her to receive a special award.
Mr Wicker, who attended the house, said: "Without thinking, Courtney immediately called 999 as her uncle was having a seizure.
"By the time I arrived on scene he had almost stopped fitting, but his niece stayed by his side softly talking to him and reassuring him. She's a little heroine."
It was the first time the girl had dealt with a medical emergency on her own and the first time she'd called 999.
She said she was "excited and nervous" to receive her certificate, which praises her for her actions.