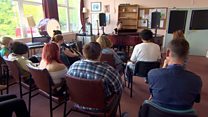 Video
Emily Macguire performs music at Fulbourn Hospital where she was treated
Acclaimed singer-songwriter Emily Macguire has performed at the hospital that helped treat her bipolar, in the hope that it'll help other patients.
Ms Macguire was admitted to Fulbourn Hospital near Cambridge on her 23rd birthday almost 20 years ago, after a "manic psychosis episode".
She said that music helped her to express her deepest emotions.
"If music is so vital to people who are fit and healthy in mind, how much more so would it be fore people who are in a desperate state of depression and anxiety?" she asked.
For more stories from the county, visit BBC Local Live: Cambridgeshire
Go to next video: GCSE artist opens up home for exhibition